Vinyl Banners
A Practical and Portable Signage Option
Need a new sign for your business but no time or budget to spend on ordering and installing a conventional sign? Try our durable, heavy-weight vinyl canvas banners as a fantastic, cost-effective alternative. Have your graphics printed exactly to your specification, for any size banner (minimum 1' x 1') and any quantity. Supply us with your print-ready (normally PDF format) design and we'll do the rest. Sharp, high-quality graphics mean you won't even know you're looking at printed vinyl!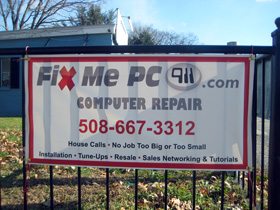 Our signs come with quality metal grommets and a doubled-edge sewn seam, making them strong and durable for exterior use in extreme weathers.
Easy Installation
The flexibility of vinyl-coated canvas makes installation relatively easy. Securing small or medium sized banners certainly requires no special skills. Simply tie the sign down through the grommets already built in. Changed your mind about its location after installation? No problem. Detach it and move it!
Temporary or Permanent
Vinyl banners are an obvious choice for larger temporary signage, both indoors and out, for events, product or service promotions, political campaigns, or even special occasions in your own household. But they're also perfectly suitable as a permanent sign replacement. Perhaps your business signage is out of date, fading with age or simply due for a revamp. Cover it with your new vinyl sign and you're good to go!
Mobile
Your banner can be for both occasional or frequent repeated use anywhere it's required. Easy to fold or roll away for transportation to its next location. Perfect for trade shows or campaigning on the move.
See also: Signage homepage