Make Your Message Extra Special for Any Occasion
Custom & Personalized Card Printing
Looking for a unique and more meaningful way to send your message or greeting? Why not reproduce your own photograph or perhaps your own or child's artwork to send with a personally composed, professionally typeset message? We can of course print your own print-ready card design, but if you're low on inspiration or technical ability we can create a unique card for you with your guidance.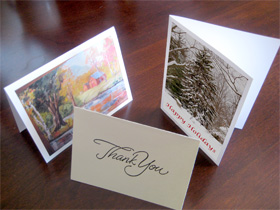 At Park Print we specialize in catering for personalized and custom printing requirements. Whether it be a seasonal greeting card for Christmas, Easter or Thanksgiving, a more personal thank-you, birthday or birth announcement, or something more business-like, such as reminder cards or event postcards, we can produce a card that will make a real difference to the recipient. Talk to us about your ideas and we can help make them a reality at a very competitive price.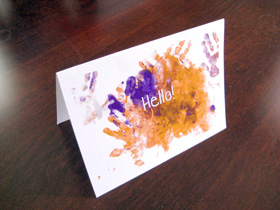 We offer a range of cardstock in a variety of colors for both fold-over cards or simple postcards. We also have access to a wide range of letter fonts to typeset your message in a style that suits both you and the occasion. We can even supply envelopes to match! For business clients, your company logo, contact details and any other branding can be easily incorporated into your design.
The following example price is for a print-ready design, normally provided as a PDF document. Any in-house design time is at extra cost:
Set of 20
5" x 7" quality cardstock
Full color printing on a single side
24-hour turnaround
$25.00 + VAT
Pay us a visit or call us to discuss your requirements: 508-756-8600