Engage with Your Waiting Customers or Guests
Table Talkers (or Table Tents!)
A simple piece of folded card with a well-designed message is an extremely effective way to immediately start communicating with your customers or guests the moment they arrive at your establishment, event or private function. Whether it's table numbering, food menus or beverage lists, or more detailed promotions and special deals, table tents can communicate what's available, what's coming up, how to connect with your business and other related content of interest.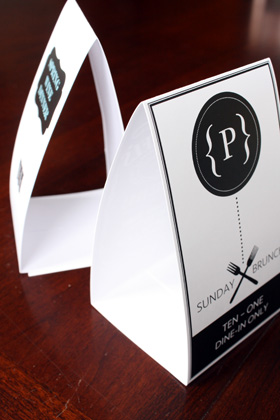 Table talkers (or 'tents') can be designed to stand at different orientations and with different dimensions according to how much information is required to be on display on each face. The typical 'tent' style (see photo) has two printed faces with the third, smaller, side acting as a base where the cut card is slotted together (no glue required).
As an example of pricing:
60 table talkers
Standard white 12 pt card printed on 1 side and scored for folding
3¼" x 5½" (each visible face)
Black ink only: $40.50 + tax
Full color: $58.00 + tax
Please note that the above prices are for print-ready designs, typically supplied to us as PDF files. Any design work (either modifications or complete designs) will be at additional cost.