We are open weekdays, 9:30am - 5:00pm
Customers should still call from the parking lot or from home to let us know their needs in advance. Thank you and stay safe.
PVC Signage
Ideal for Interior Signs and Display Boards
3mm PVC has similar properties to Coroplast in being light, strong and weather resistant. But, unlike Coroplast, the sheet is solid (not corrugated) which is more aesthetically pleasing to view close up. This makes it a more attractive option for any interior wall-mounted or stand-mounted signage, trade stands, point-of-purchase displays and exhibitions.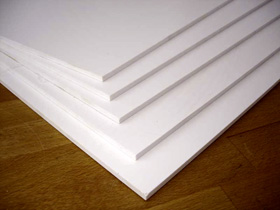 We can print any typical size sign, so the following is an example pricing:
24" x 36" (2' x 3') PVC sheet
Full color printed graphics (with UV protection)
$50.00 incl. shipping & VAT
All signs have a 7-day turnaround. Please inquire about irregular sizes or requirements. Call us or request a quote online for other specific sizes.
See also: Signage homepage