We are open weekdays, 8:30am - 5:00pm
Customers are allowed inside our premises, however please wait outside if social distancing is not possible when you arrive. If you would like service to your car, call us! For faster service, email us in advance. Thank you.
Ready to Order?
Menu and Price List Printing
Restaurants, bars and many types of services and retailers present their customers with a some kind of menu or product price list on arrival. Good price list design can easily be taken for granted as it can tell us much more than just what's on offer and how much it costs. We immediately get a feel for what kind of establishment it is through the tone, images and overall graphic style of the information displayed.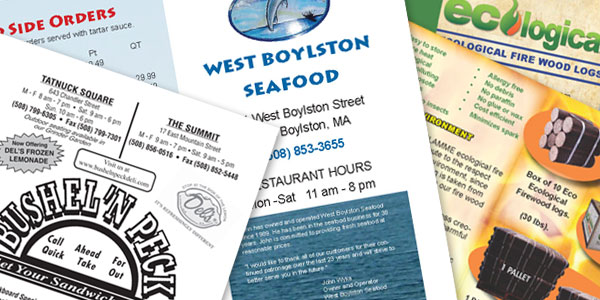 More often than not, quality in the design and printing of menus and price lists communicates quality in the establishment and the service it provides to its customers. So getting it right does matter!
Park Print offers you an efficient and reliable printing service for any kind of menu or product price list. We can order your preferred card stock type, color or effect (e.g. parchment) and print up to a maximum size of 12" x 18".
Lamination is available in 5mm pouches up to 12" x 18". If your design requires folding we can hand fold upon request for an additional fee.
All print-ready designs should be supplied in PDF format.
Design
Park Print has extensive typesetting and design experience that can bring any price list or menu concept to life, no matter how simple or complicated. Due to the huge variation in complexity of menu layouts, and the subsequent proofing stages and inevitable alterations, pricing is also variable and can only be provided on request.
To discuss your requirements, please pay us a visit or call us: 508-756-8600
See also: Table Tents | Flyers & Leaflets | Lamination | Design & Typesetting